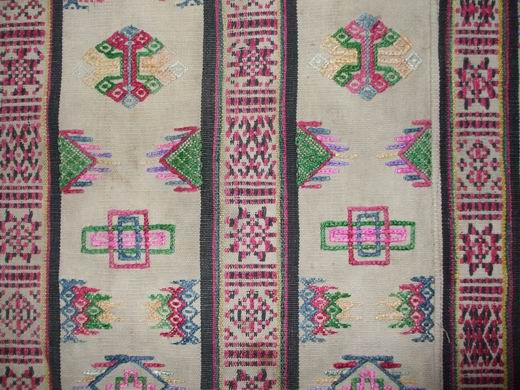 Bhutan Textile Kira Kushutara
20 mid-century
backgraoud Bhutanese hand-spun cotton yarn
patterns hand-spun wild silk yarn
natural and ckemicak dyes mix
***
The kira is the national dress for Bhutanese women.
An elegant wrapped dress, it is usually comprised of
three long panels of silk or cotton joined in the warp
direction and oriented horizontally.
Each panel roughly nine feet long is created through
a weaving process that takes many months.
Women attire themselves in the kira by performing
a very complicated wrap around the body, folding
the material into a wide pleat in front and securing
the material at each shoulder with a metal brooch,
the koma, which replaced the older thinkhab,
a heavy pin with a ring.
The kira is then belted tightly with a wide belt
called a "kera."
The wrapped dress is then bloused to form a pouch.
A ceremonial shoulder cloth called rachu,
covers the left shoulder on special occasions.
Comments
Post a comment
Trackbacks
http://bhutantextile241.blog126.fc2.com/tb.php/14-bf6820a0
Use trackback on this entry.
« | HOME | »