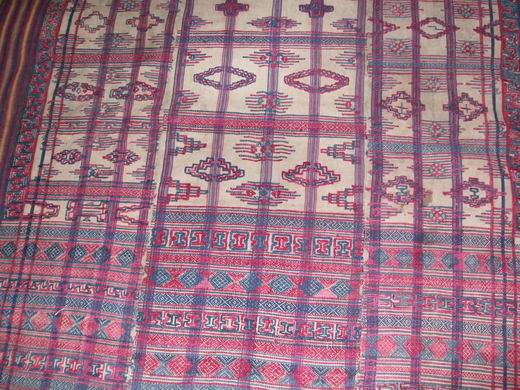 Bhutan Textile Kira Kushutara
late 19century
background Bhutanese hand-span cotton yarn
patterns hand-spun wild silk yarn
natural dye
***
Women's wrapped dress (kira) comprising of
a large rectangular piece of material constructed
from three loom width panels hand sewn together
in the warp direction.
The textile features narrow warp stripe patterns
in blue, green, red, yellow and white as a wide border
down each side and also has narrow bands between
rows of raw silk supplementary warp patterned bands
featuring the - bura lungserma - jadrima pattern
in white and yellow on a red ground.
The textile is finished at each end with a fringe.
Comments
Post a comment
Trackbacks
http://bhutantextile241.blog126.fc2.com/tb.php/5-9a42155f
Use trackback on this entry.
« | HOME | »